Belt based Restraints
Waist Belt Model No: WB /100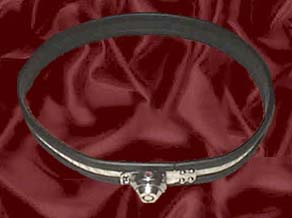 This waist belt is identical to those used on the other appliances, incorporating the same locking system. A chrome steel crotch chain is fitted, one end of which is permanently connected to a D-ring at centre back. The other end is terminated into the locking mechanism at the front waist, this can be used to form a simple chastity device, NP/100 plugs can be used. D-rings are fitted on either side of the waist. Thigh bands can also be fitted if required.
Approximate weight: 1lb 2oz (0.51 Kg)
Supplied with two keys.
Waist Belt Model No: WBTB/100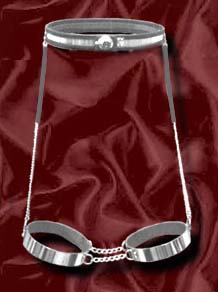 Similar to WB/100 but without the crotch chain. It is fitted with thigh bands instead, and is mainly used as a restraint or gender training device.
Approximate weight: 2lb 8oz (1.1 Kg)
Supplied with two keys.
Dress Belt Model No: DB/100
Designed to be worn over a dress or or tight lacing corset as a security device. The internal surface is polished to a smooth satin finish and the rounded edges and external surface polished to a mirror finish. Manufactured in 1.25" wide high grade stainless steel the belt is identical to theappliance waist bands and uses the same locking mechanism.
Approximate weight: 14ozs (0.4 Kg)
Supplied with two keys.