Informazioni sul prodotto
Tutti i prodotti sono realizzati su misura con disegni originali Tollyboy.
Gli articoli in metallo sono realizzati in acciaio inossidabile temperato e temprato di alta qualità (grado medicale 316); il prodotto finale è lucidato a specchio, per garantire la resistenza alla corrosione. I bordi esposti degli apparecchi genitali sono protetti da modanature in gomma siliconica e le superfici interne della cintura sono rivestite con lo stesso materiale, in modo da mantenere l'igiene durante i bagni o le docce, ecc. Con gli apparecchi genitali si consiglia l'uso del bidet, ma non è indispensabile.
Il sistema di bloccaggio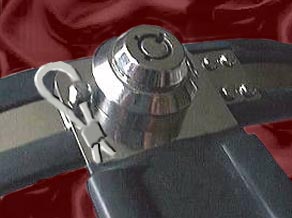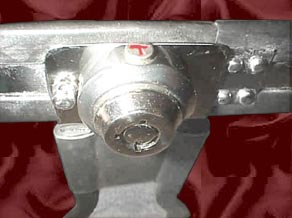 Appliances are fitted with a locking system unique to Tollyboy Products International, incorporating a specially adapted high security 7-pin radial lock, and are considered to be escape proof. Spare keys are available. The original locking system was a unique concept invented and developed by Hal Higginbottom, based on a 4-pin padlock, which proved very successful - it was simple, secure and served its purpose for many years. This led to the design and development of an entirely new locking system based on a 7-pin radial lock offering far higher security, mechanical superiority and a smoother, lower profile. All Tollyboy Products International appliances are now fitted with the new locking system, except collars & bridles.